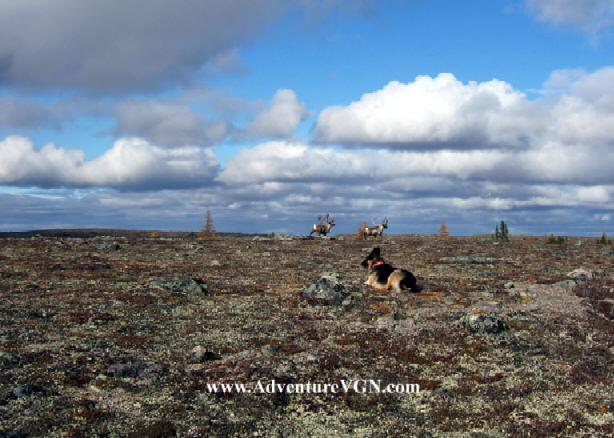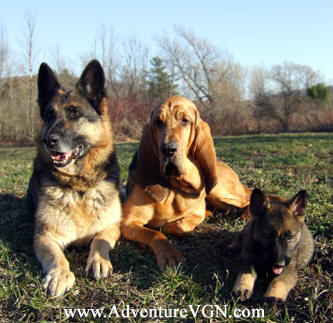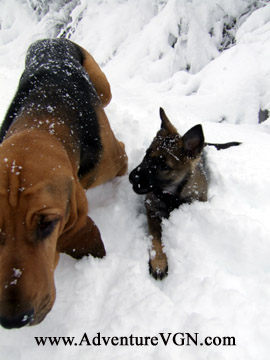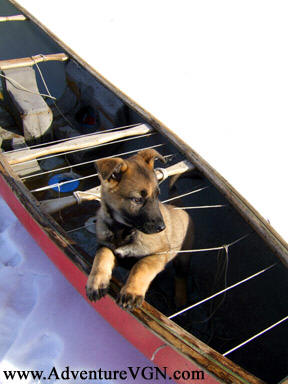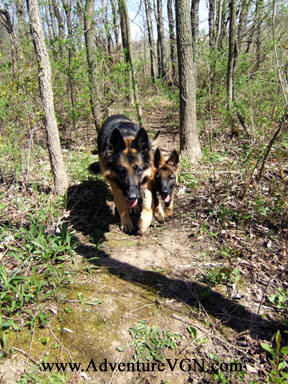 Sentinelle is learning the new routine from her experienced mentors...
German Shepherd Dog "Gisele" and young bloodhound, "Jesse".
.......Gisele passed on all that she knew to little "Elle" RIP Gisele..November 10th, 2007.....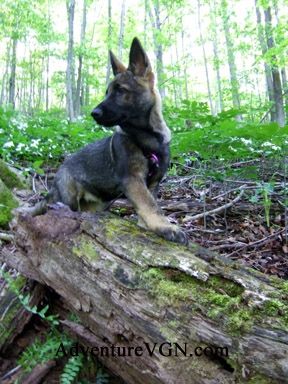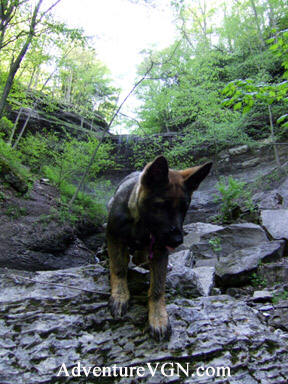 "At 15 1/2 weeks, her tracking has really come around. She went through a phase where she was really losing focus. I realized being a smart, inquisitive puppy, she just wanted to investigate the new things she was encountering when the trails got longer and switched from the lawn and field to the woods. Taking her on the walks with Gisele did the trick, allowing her to investigate everything new while not doing trails. She is now maintaining focus on trails 300-400 yds. long. Yesterday, the trail included working through and up a little creek, up to where the waterfall photo was taken."
John Engelken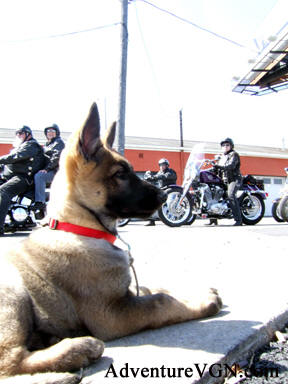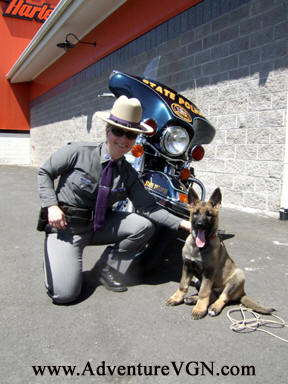 Sentinelle likes Harleys... and Police Officers :;)))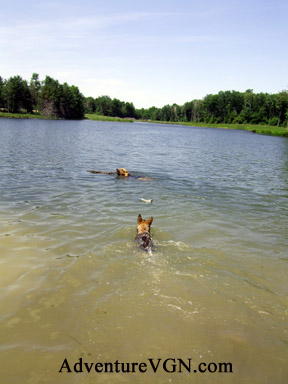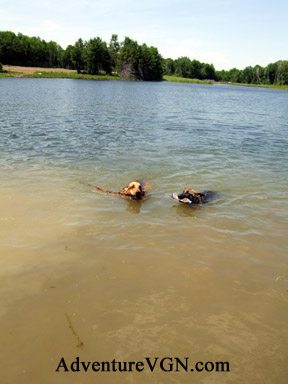 Here is Sentinelle (18 1/2 weeks) preparing for all that water in Quebec's far north. Though she has been tracking and retrieving in small creeks, this was her first big swim. Pretty fun.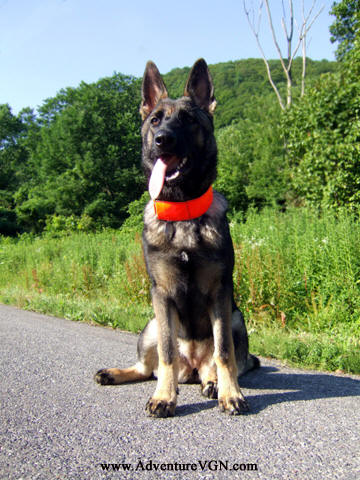 August 14, 2007 Sentinelle is now 6.5 months of age...
Hi Jean,
Sentinelle and I will be leaving for the far-north this Friday. For sure it's pushing it at her age, but I'm pretty confident we will be okay. Her tracking is such that I think she will be of service. She watches me like a hawk, sticks close on walks and is pretty good with basic obedience, especially for a puppy. She rides well in a canoe, doesn't mind gunfire, LOVES the water, etc.,etc., ... so, we are going for it! I will watch her very carefully as it can be a dangerous place for a dog. I will take good care of her, don't worry. Gisele was very young her first season (of 11) too.
I hope you and all the dogs are all doing great and enjoying the summer.
JohnE
New Updates from John and Sentinelle...now 9 1/2 months on her first find of the fall, 2007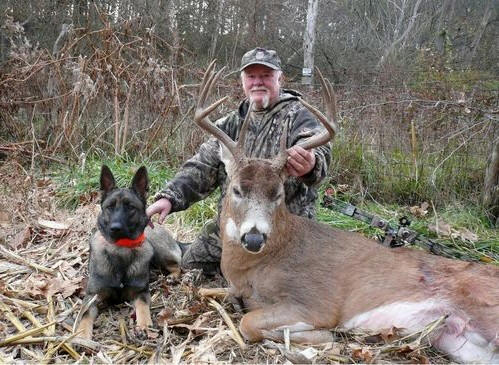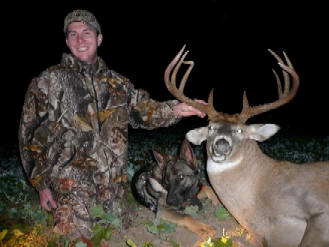 John's Halloween Buck
Norman shot this fine 9-pt on Halloween. Gross score 157". Also pictured is Elle, the newest addition to the Track Posse.
H
e thought he had missed this buck because the buck had no reaction to the shot. When the guide picked him up they checked the arrow and found good blood. After a short wait, John, Elle, and the track posse made short work of a faint blood trail. Congrats John on a fine 157" 9-pt.

Sentinelle and Caribou Bulls
Sentinelle's mentor, Gisele passed on; November 10th, 2007...
Gisele was the long time companion to John in his tracking guide business and spent many years working with him..She was instrumental in passing along much of her knowledge to both John's Bloodhound, Jesse and to Sentinelle...

Her memory will live on in these young, upcoming and talented tracking dogs...
Gisele will long be remembered with love by owners John and Donna Engelken.



Rest In Peace Gisele...
Hi Jean,
Just dropping a line to say hello, and send a photo of Elle from last fall. She did a nice job for me up north, and remains a pleasure to me. She is still very full of energy. Sometimes a bit rough and unrelenting on the bloodhounds, but is very good friends with my one year old hound. I snowshoe with them most every day and they really tear it up together in the snow. Elle weighs 72lbs.
Elle does get nervous riding in the floatplane. Especially the turbo-prop. It has a different sound to it that seems to bother her more. So far not a big problem, and we only fly in floatplanes 3 or 4 times during the season. The large prop-jet doesn't bother her much.
Other than the floatplane nervousness, she's great. Very reliable. One day I had her on whoa while a big wolf trotted by at 25yds. The wolf hit Elle's tracks and came right for us. It ran when it heard me drop a shell in. Elle held her whoa.
Elle didn't have to do a lot of tracking up north, but did well when called upon.
I check your website now and again to see what's new. I've given your name to several people who've asked me about GSDs.
I hope all is well at Schraderhaus.
John

Sentinelle 2 yrs old Feb 2009