V Gerry von Weltwitz
IPO3, FH2, KKL1, Hips A1 /ED Normal, DM Clear

Yeltsa von Schraderhaus
Hips SV A2 / ED Normal, DM Clear

View Updates Below on Yeltsa and Gerry's Czech/DDR "L" Litter...

Yelltsa and Gerry's " L " Litter

L
itter is DM Clear
Litter Born
September 11th, 2014


2
Males /
6
Females Born
Litter Pedigree for Yeltsa x Gerry
Currently Available
0
Male /
0
Female !
From the sire line:

Gerry's Sire, Uncas vom Poppitz, has consistently been a top producer in Germany for a combination of outstanding working ability and strong temperament. In addition to the excellent bloodlines Gerry inherits from his sire line, he inherits the incredible and well known protection and tracking abilities from the great DDR sire, Lord vom Gleisdreieck.

Gerry 's scores were 96's- 99's in his tracking work,

and he is pronounced in Protection. A very nice dog to be around, he is warm and fun loving, always ready and willing to do whatever you ask of him.

We've long admired the bloodlines of Lord vom Gleisdreieck, observing the strong tracking and protection qualities that he imparts to his progeny.

**DDR Lines to

SCHH2 SG

Condor vom Haus Christian

, SCHH3 IPO3

SG

Condor von den Tonteichen

, SCHH3 ( SG-LGA )

V

Brando von der Marderklause

, SCHH3 (BSP/LGA/DDR-MS V1 1990) IP3

SG

Irko vom Peri-Hof

, SCHH3, FH

Greif vom Peri-Hof

, SCHH3, IP3

SG

Nestor von den Gnitzer Höhen, SCHH3, FH1 V

Zorro vom Laager Wall, SCHH3 SG

Lissy vom Haus Iris, SCHH3 SG

Gabi von der alten Wassermühle,

SCHH3, PSH1 V

Alf vom Körnersee

, and SCHH3

V

Sven vom Gräfental

.





From the mother line,

Yeltsa's

excellent producing sire

Lux vom Kameruner Eck.

is

V Rated, Sch3, KKL1 for Life.

Imported from Germany, Lux's pedigree is an excellent working lineage of Pure DDR/ East German bloodlines. Lux is

an extreme quality male with very good work ethic demonstrating super bitework, super retrieve, and confidence on slick floors.

Lux's temperament is open and completely trustworthy when meeting new people, and he is an attentive dog to the handler.
He is, at all times, agreeable, ready and willing to work.
Yeltsa's Grandsire, Tino vom Felsenschloß

was

a highly sought after sire in Germany, siring excellent working progeny. Lux is a grandson of

Lord vom Gleisdreieck, well known for imparting excellent working drives into his offspring, particularly for tracking and protection work.

DDR

Lines to Jeff vom Flamings-Sand, Blacky vom Gleisdreieck, and Ingo von Rudingen.

Yeltsa's dam is our beloved Elba z Esagilu

granddaughter of the excellent producer and well known Border Patrol Stud dog

Xero z Pohraniční straze

.

Xero is the most famous producing son of his well known highly sought after father,

Grim z Pohraniční straze

..Grim is well known for producing compact, substantial dogs with large head type, high defense and civil temperaments. Yeltsa's grandmother is

Figa Cega

,

a super producing female having several excellent working litters to her credit.





Yeltsa x Gerry's "L" litter ...



Males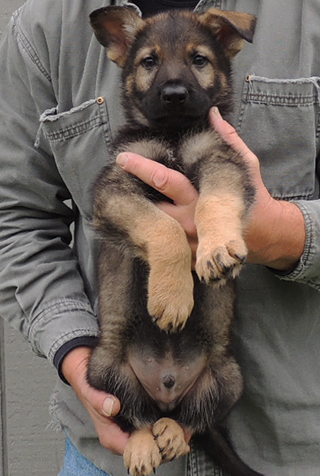 Royal Blue collar

black sable male

"Lukas"

@ 7.5 wks
SOLD_Ron H, Covington WA

NO Collar Black Sable male

" L' Jager "

@ 7.5 wks
SOLD_Mya I, Olympia, WA.


Females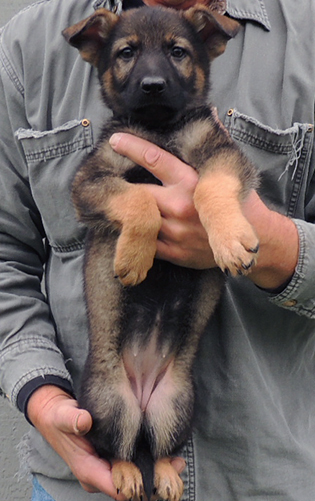 Black Collar

Female 7.5 wks
" Luna "

SOLD_Signe F and Family, Cordova, AK.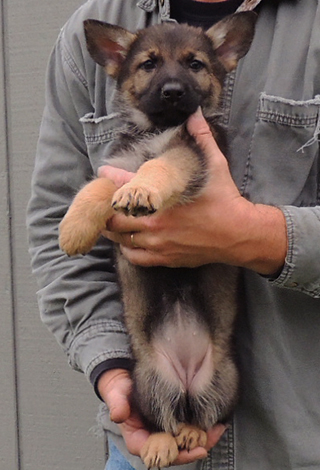 Turquoise collar

female

" Lakota "

@ 7.5 wks
SOLD_Jordan S_Kenmore, WA.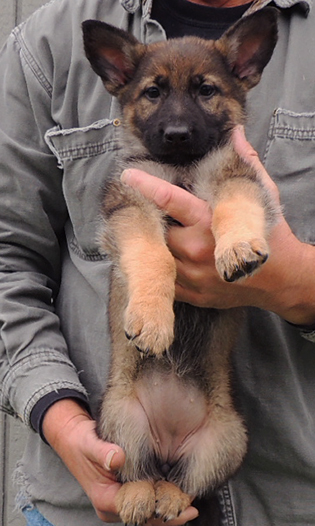 Purple Collar

Female " Lore " @

7.5 wks
SOLD_Yun L., Bothel, WA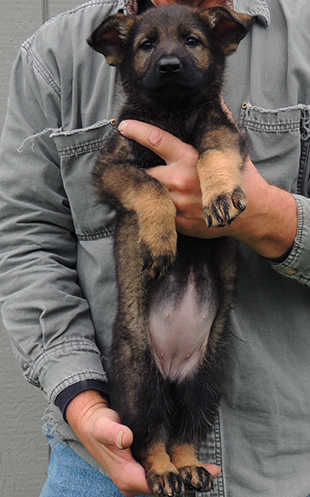 Pink Collar

Female " LiLo " aka Lyla @ 7.5 wks
SOLD_Brett C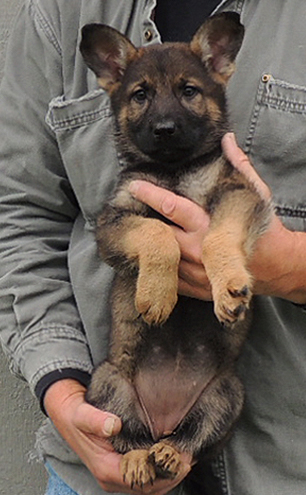 Orange Collar

female 7.5 wks


" LuElla "




SOLD_Mike K, West, TX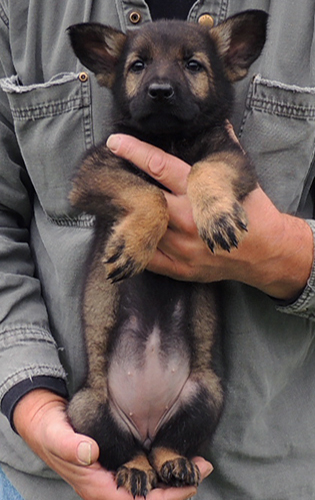 Red Collar

Female 7.5 wks
" Lesya "
Emily Mc. Olympia, WA

5 wks old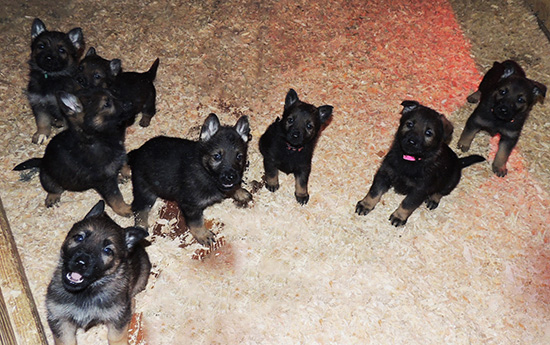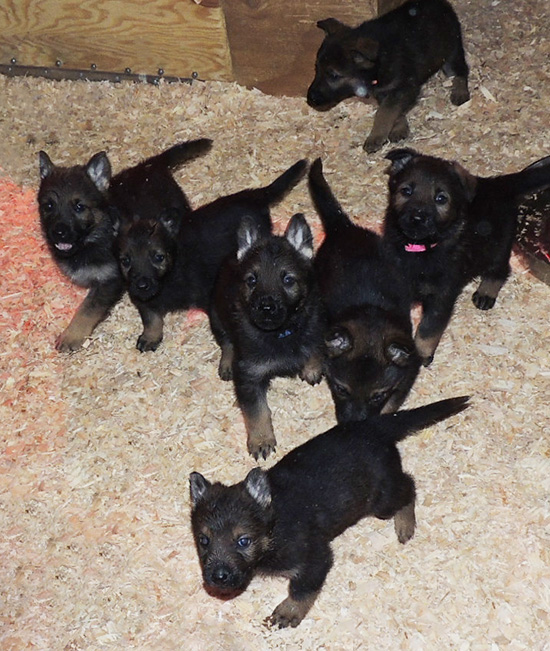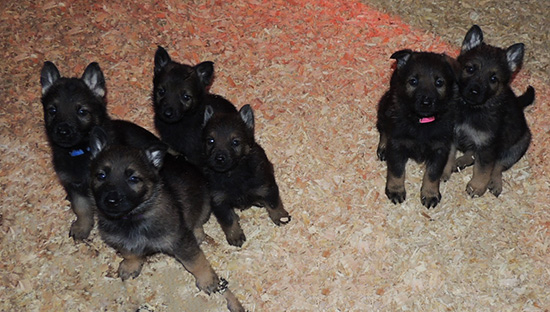 5 weeks old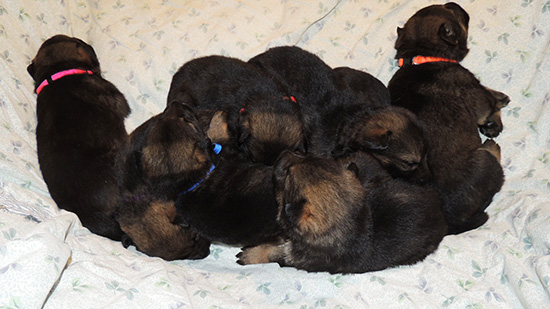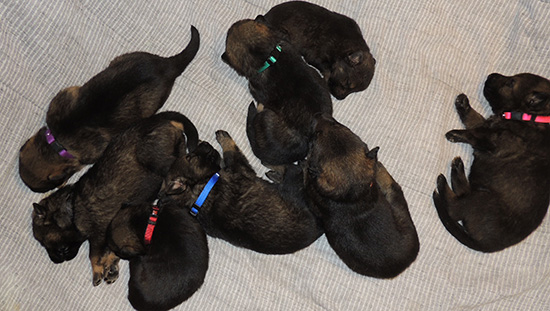 3 weeks old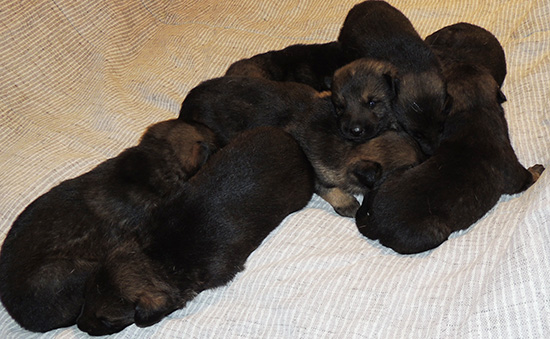 19 Days Old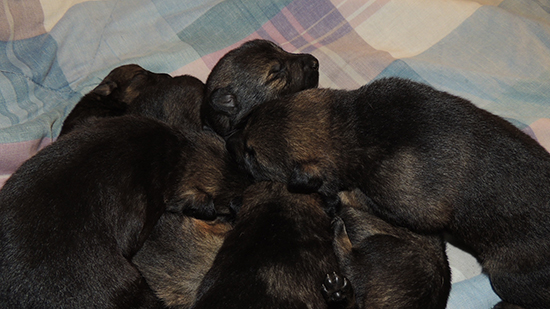 13 days old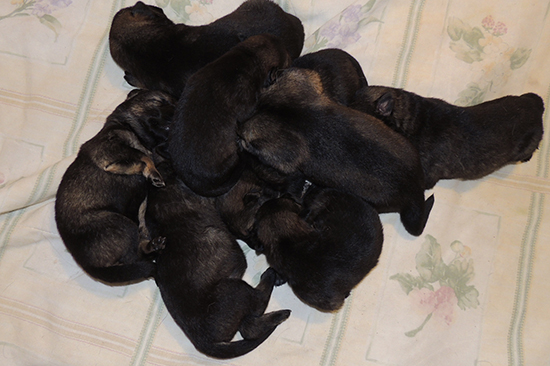 12 Days Old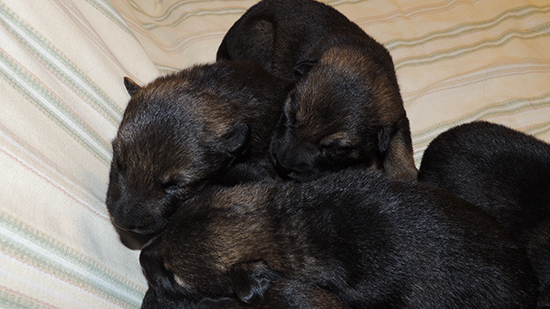 2 weeks old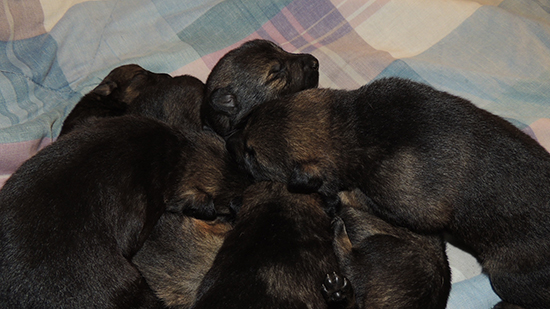 13 days old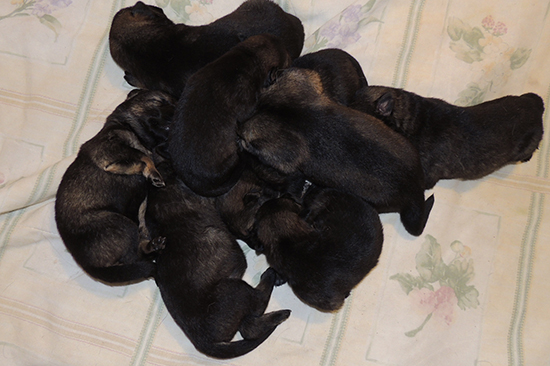 12 days old

Yeltsa x Gerry L Litter

6 days old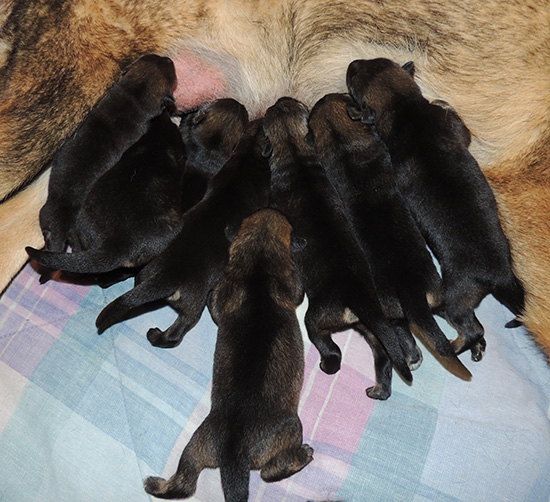 6 days old

3 days old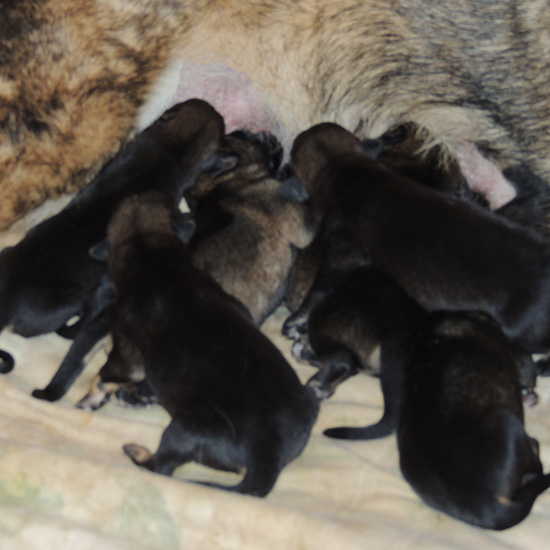 3 days old


Newborns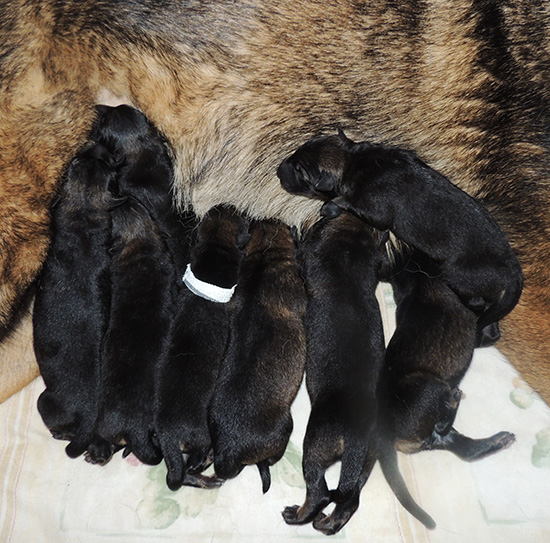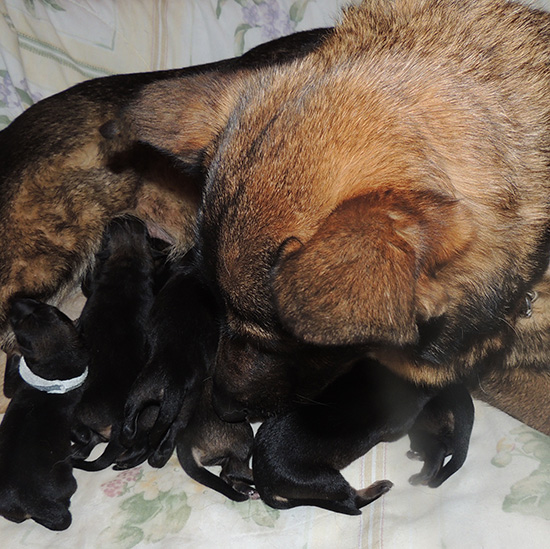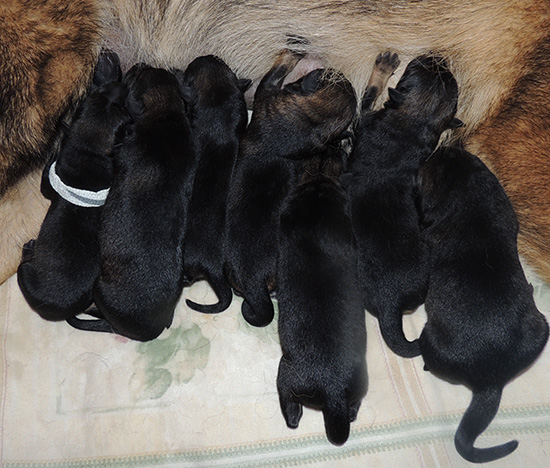 Yeltsa x Gerry Litter
Newborns




Schraderhaus K9
Quality Working German Shepherd Dogs
Roy, WA. (United States)
+1.253.843.1123 PST