DDR "V" Gerry von Weltwitz,
IPO3, FH2, KKL1, Hips A1 /ED Normal
DM Clear
Son of
SG Uncas vom Poppitz
SCH3
x
V Roxy vom Ludwigseck
SCH3, KKL1

DDR "SG" Nikita von Schraderhaus,
CGC, Hips SV: A1 / ED Normal
DM Clear
Daughter of our
V Lord v.d. Grauen von Monstab
SCH3, KKL1, A1
x
V Elfie vom Klödener Riss
SCH3, KKL1, A1
Nikita and Gerry's DDR "B" Litter...

Pure DDR/ East German Litter,

DM Clear


Nikita and Gerry's Summer 2015 "B" Litter
6 Males / 5 Females Born

Litter Born
September 1st, 2015

"2015" LITTER - 6 Male / 5 Female Born !

Color on Females: 3 Blk Sable, 1 BiColor Blk/Tan, 1 Black

Color on Males: 3 Blk Sable, 1 BiColor Blk/Tan, 2 Black

0 Male / 0 Female Currently Available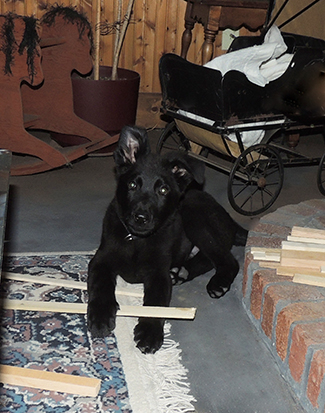 Royal Blue Collar Black Male
"Blaz Vader"
@ 12 wks
SOLD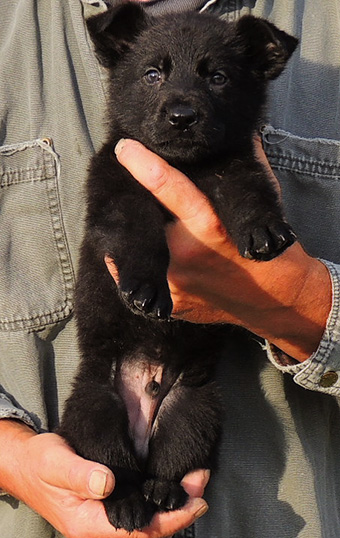 Royal Blue collar Black male
" BLAZ VADER"
@ 6.5 wks
SOLD

~~~~~~~~~~~~~~~~~~




Our pairing of Nikita x Gerry
produces Super nice outgoing
and confident pups that are
friendly and inquisitive,
with high food/hunt drive and an
excellent nose for scent-work.
Pure DDR /East German Bloodlines.
Suited for IPO, SAR
herding, home and
personal protection.
Nikita x Gerry's "B" Litter






Turquoise collar

Black Male
" BALLTRIC"
@ 6.5 wks


SOLD_Ed S., Loxahatchee, FL


Turquoise collar Black Male
" BALLTRIC"
@ 9 wks


SOLD_Ed S., Loxahatchee, FL






Dark Green Collar

black sable male
"BRANDO"
@ 6.5 wks


SOLD_AL F., Kenosha, WI.


Dark Green Collar black sable male
"BRANDO"
@ 9 wks


SOLD_AL F., Kenosha, WI.

Males




@ 6.5 wks








Royal Blue collar

Black male
" BLAZ VADER"
SOLD





Dark Green Collar

black sable male
"BRANDO"


SOLD_AL F., Kenosha, WI.







Medium Blue collar

BiColor Blk/Tan male
" BURKHARD "


SOLD_Mike and Kim M., Portland OR






Turquoise collar

blk sable male
" BLITZ "
SOLD_Adam W., WA





Turquoise collar

Black Male
" BALLTRIC "


SOLD_Ed S., Loxahatchee, FL


Black collar dark sable male
" BUCK "
SOLD_Shannon B., Lubbock TX



Females




@ 6.5 wks








Orange Collar

Blk /Tan Fe
SOLD_Rachel E., Mount Lake Terrace, WA




Red Collar

Blk Female
" BINDY "
Sold_Sharon J. Seattle, WA





Purple collar

Dark Sable Female
" BRINYA "
SOLD_Jeff C., Oregon





Pink Collar

Dark Sable Female
" Bezaubernd Heidi "


SOLD_Don and Misty N., Yelm, WA








Orange Collar

Dark Sable Female
" B' TEYAH LEONA "


SOLD_David S., Sherwood, OR









20 days old









20 days

9 days old





9 days old


@ 6 days old







6 Days old




Nikita's litter @ 4 days old












Nikita babies @ 4 days old



Below:
Nikita

temporarily

helps out Marka's litter
(Marka did not get adequate milk)


(Marka's 5 babies are marked with shaved marks on sides)


All 16 babies are shown below



Nikita x Gerry's Newborn pak of 11
"B" Litter


6 males

&

5 females








Newborns Gerry x Nikita B Litter
Keeping each other warm while cleaning their bed



Schraderhaus K9
Quality Working German Shepherd Dogs
Roy, WA. (United States)
+1.253.843.1123 PST