Aik vom Brachtpetal
SV: Hips A1/ED A1 Normal
DM Clear


BH, AD, IPO1



DOB: 03/29/2010 ~

November 2013 RIP Aik
HD SV : Hips A1/ ED A1
Sire:
V

Ero vom Fuchsgraben
West German Pedigree
BiColor
Clearance Tested DDC Veterinary: Degenerative
Myelopathy: DM CLEAR (Homozygous N/N, Clear)

Imported from Germany, we are extremely pleased to have the opportunity to bring in this quality stud from Germany to utilize in our breeding program.
Aik has an outgoing yet strong and confident temperament. Powerful in the bark and hold and long bite, His tracking ability is natural, and he works in a clear, methodical and calm manner, accurately assessing the track and demonstrating precise article indications. He demonstrates high courage with an intense, full grip in bitework. Comes into the blind strong, displaying a solid, rythmic bark and hold, and is lightening quick in his reaction to a threat from the helper.
Very flashy and upbeat obedience, he gives complete focus and attention to his handler. A joy to watch in motion, he is a fast learner and strives to please his handler, and always demonstrates a very good work ethic. We will utilize Aik in our breeding program via stored /frozen semen to continue on these excellent traits in his progeny produced for our kennel,
as working pups for schutzhund, personal protection and police work in the future.

Titled in Germany to his IPO1 title, Aik was imported by Schraderhaus K9 and sent for further training in Chicago, where he was handled and trained by Ray Metallo, where he obtained his AD title..
Sadly we lost Aik less than a year after he arrived here from Germany and while he was training for additional titles in Chicago. We are thankful that we had the opportunity to bring him home to our kennel earlier, where we collected and stored semen from Aik, and which we now use in our breeding program.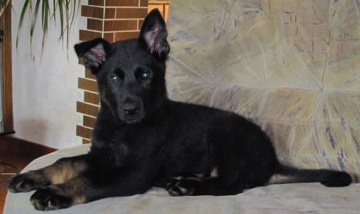 Aik @ 10 weeks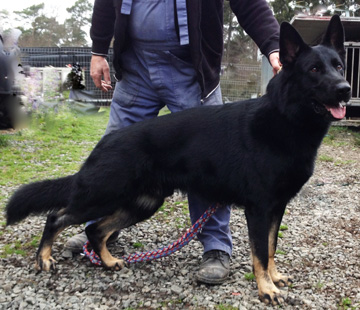 Aik at 35 months of age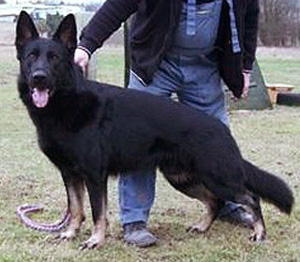 Aik vom Brachtpetal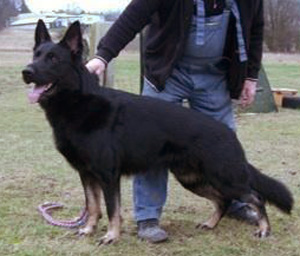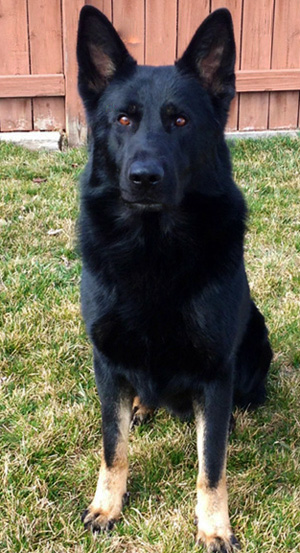 Aik vom Brachtpetal