V Franzi vom Gräfental

SCH 3, KKL1, Hips A1
DDR/East German Pedigree
Confident and impressive strong boned, very dark black sable female with beautiful head type and solid conformation. Bone is substantial in this female and she is a nice over-medium sized compact bitch. Franzi is "V" Rated in working structure and has a solid excellent DDR/ East German Pedigree. Franzi has great ball drive, and is fast and agile. Her focus on the task at hand is excellent, loves the work, and she strives to please her handler. She has the ability to settle when in the house, and is a pleasure to interact with in the home environment.
Franzi has proven her ability to pass along her incredible deep coat pigmentation into her offspring, as well as excellent head type, substantial bone, and very nice temperaments, producing pups which are highly intelligent and easily trainable. Her offspring exhibit energetic prey and ball drive for the working enthusiasts. Franzi inherits the incredible and well known protection and tracking abilities from her sireside in the great DDR stud, Lord vom Gleisdreieck.

From the sire line, Franzi's Paternal G.G.Grandsire "Lord" was a top producing male who was renowned for imparting excellent working drives into his offspring, and was one of the finest producers of sound hips (producing good-excellent hips with around 98.5% success rate). Lord got his SchH1 title with a perfect score of 300 points. Out of his first 19 trials he scored 15 perfect 100's in tracking. His lowest tracking score he received was 97. **DDR Lines to Jeff vom Flamings-Sand, Blacky vom Gleisdreieck, and Ingo von Rudingen (credited for producing some of the strongest structural health for the Working German Shepherd gene pool, vastly improving upon pigmentation and working abilities.)
Franzi produces excellent working pups which are large with substantial, solid boning and working body structure. Head type is large and blocky; pups present good focus and sureness, being very quick to investigate new things with no sign of fear or hesitation when presented with a new scenario to work through. Prey drive is quick to come on strongly. Tracking abilities are highly evident at an early age; the pups demonstrating deep and persistent noses on the ground.
Franzi came to us from
the Grä
fental Kennel in Germany, in whelp by the well known DDR Stud
Sven vom Gräfental
. From this excellent litter we kept a beautiful black sable Franzi x Sven daughter for future breeding stock for our kennel; Our own lovely female,
Ittiana von Schraderhaus,
Ittiana has produced fabulous litters for us
sired by our DDR stud Lux vom Kameruner Eck.
Our Itti x Lux pups also demonstrate the same outgoing temperament with high willingness to please, and the intense scenting abilities of their wonderful parents. Several of her pups have gone into homes
to prepare for work in S & R and tracking work.
Her pups inherited the large bone, gorgeous head type, and the healthy, substantial and correct working structure
that the DDR dogs are so well known for producing into their offspring.
* Franzi's Pedigree

* Franzi's Photo -Pedigree

* Franzi's litter by Sven v Gräfental

View Franzi's litters from Lux:

Franzi x Lux's "P" Litter for 2006

Franzi's Lux litter for 2008

Franzi's Repeat litter

An exceptional litter from Franzi was produced in 2006, and again in 2008, which were sired by our "V" Rated stud dog Lux vom Kameruner Eck..

Schh3, KKL1, Pure DDR bloodlines

.
This breeding produced large substantial pups with deep pigmentation and excellent head type. Temperaments were clear and confident with pups exhibiting very good focus and trainability. This pair passed along highly capable noses into their pups, ideal for S & R and work requiring dogs for tracking, due to their excellent scenting abilities.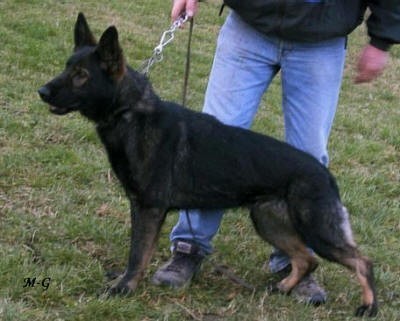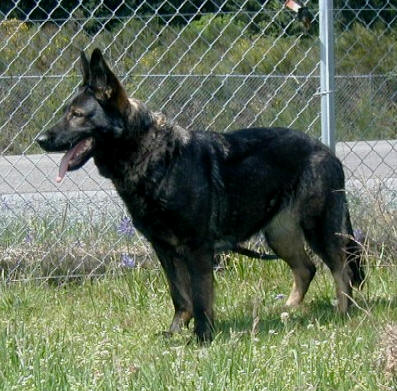 Franzi

is linebred on the following DDR Dogs

.
Linebreeding - 5 generations