Argo z Libocké zahrady
ZVV1, IPO1,
Hips A1 /ED Normal
1st Select Breeding Class
HD: A1/ ED Normal
Sire: Xac z Pohranicní stráze
Dam:

Uli z Milberku
Slovak/Czech/DDR
Pedigree
Solid Black
DDC Veterinary Certified Degenerative Myelopathy (Certified N/A)
Argo is an absolutely impressive, heavily boned, serious and substantial solid black male with excellent masculine characteristics. Large and solid body structure with very good working conformation, Argo possesses the great head type which is typical of the Czech/Slovak and East German / DDR Dogs. Still a very young dog shown here at 22 months of age
Argo is a Slovak Import with Hips A1. He is an extreme quality male with very good work ethic demonstrating super bitework, super retrieve, and confidence on slick floors.
He has good health.
Argo completed his titling for ZVV1 and IPO1 titles in Slovakia in just under 3 months, with his training done by World Team Czech Trainer Stanislav Kubant. His show rating /breed survey has also been completed, receiving 1st select breeding class. This is an amazing accomplishment in this short amount of time and demonstrates the superior working ability, steady nerve and substance of character this dog possesses.

His pedigree consists of excellent working lineage of well known and proven producers of working dogs.
From Argo's father-line, Argo's sire, V Xac z Pohranicní stráze is considered to be one of the best producers to date. Time and again Xac has proven his ability to produce extreme quality working progeny . Xac is the son of 2 X CZECH CHAMPIONSHIP Winner, ZPS1,OP1,ZVV3, SCHH3, IPO3 V 2*UM CR Gero z Blatenskeho zamku and ZVV1 Gola od Policie, litter sister to the well known producer Gent od Policie.
From Argo's mother-line: ZPO, ZVV1VELMI DOBRY Uli z Milberku comes grandmother ZVV3, SCHH1, IPO1 Orka z Milberku , and grandfather, SG(CS) 8*UM CR Cak Pisecna Boure. going farther in the pedigree to excellent producer for working police dogs VBORNY, 5JVQ2 /P Niko Milvel, ZM,ZVV1, IPO1, OP1 and VYBORNY Ex Hronovsky pramen..and back to .the impressive and substantial GREAT Czech stud dog H-I, SP-PS VD Titus z Pohranicni Straze CS, who was the son of SCHH3 Bero vom Friedersdorfer Flur , and grandson of SchH3 V Held vom Ritterberg.
Other great DDR Foundation stock is Gomo vom Schieferschloß, SchH3, FHV Pushkaß vom Haus Himpel,
SchH1/PSH1 V POLICE DOG Golm vom Baruther Land,
SCHH3,FH,PSH1,KÖR.5545/55 V Golf vom Ritterberg,
SCHH3 ZVV2 V Bojar vom Schotterhof, SchH3/FH/PSH1V Arko vom Gräfental and of course, the very important foundation dog for the DDR lineage, SCHH3 V Ingo von Rudingen.


Argo is a male that possesses perfect social character type, outstanding drives to the toys, excellent prey, and very strong civil. He is very quick to come into defense when his territory or family are threatened. He has a superb taste for the work in all three phases, and possesses a very strong willingness to please his handler on all levels. He is a confident and sure stud male suitable for producing pups for serious Police work including single and dual purpose dogs for narcotics and apprehension. He will also be used to produce excellent patrol dog prospects for use in and around the public. He will be valued to improve upon temperament and fight drive, in dogs used for high level schutzhund sport competition. Because his character is so stable he will be excellent for producing dogs suitable for use as home companion dogs and protection of family within the home, as he has already proven to be, having been raised within a family environment in Slovakia

Argo is the real deal, not simply a sport dog. He is highly recommended to be used wherever there is need to improve hardness and biting strength, typical stud expression, courage and substance of bone.
Argo has proven to be an improver of hips.
We are excited and absolutely thrilled to include this strong, impressive stud dog to be utilized in our breeding program at Schraderhaus K9.

Pedigree

Argo is linebred on the following dogs:
Linebreeding - 5 generations

3 - 5....... in
VELMI DOBRY Caska SNB CS (DDR-line)
Click for more pics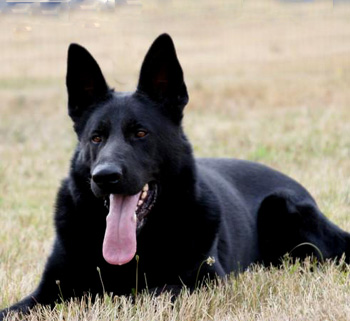 Argo @ 28 mos
Argo 3 Yrs Old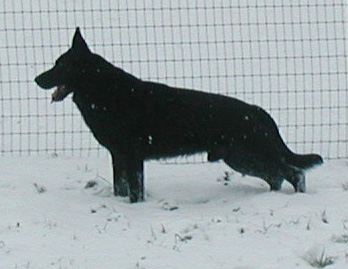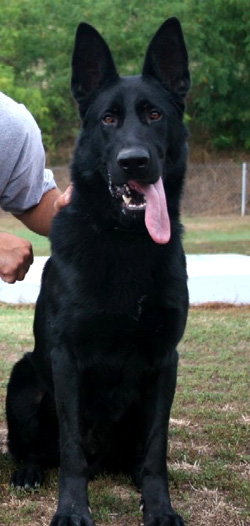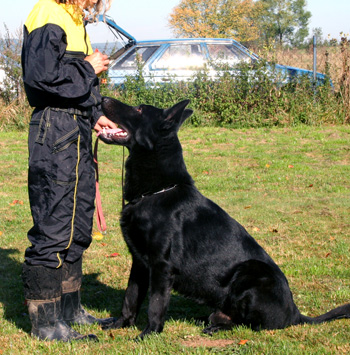 Argo 22 mos Old