"SG" Bojek Den-Lu von Schraderhaus

BH, AD, SCH1, IPO1, OB1,
CGC, TT Cert. CD, KKL,

HD: SV Hips A1 /ED Normal
**
We are proud to present another talented
Sibling to our "Norbo Den-Lu von Schraderhaus",
Sired by Norbo von Schraderhaus
out of Lusy Naspo;
**

Bojek

Den-Lu von Schraderhaus
**

Owned by Bob Pac, PacHaus K9, IL.
Black Sable
DOB 06/10/08
HD: SV A1 /ED Normal
Sire: Norbo von Schraderhaus
Dam: Lusy Naspo
Slovak/Czech Border Patrol / Old DDR Pedigree

Sired by Norbo von Schraderhaus..the only pup ever conceived from the only mating between Norbo Ben Ju and our Border Patrol female Denny Jipo-Me, our Norbo was a handsome dark sable dog. A solidly built young male from impeccable strong Slovak/Czech working bloodlines. Norbo had incredible energy displaying great love for the game. He was confident and extremely friendly with all who greet him. He participated with great joy when doing bitework and possessed a deep and persistent nose for scent work. His temperament was outgoing and free in nature, and his social skills in public including associating with children is trustworthy and sure. We miss him dearly, but it gives me great joy to know that his essence lives on through his exceptionally talented offspring..
Bojek's dam is Lusy Naspo, a lovely solid black female imported from Eurosport by owner Bob Pac of PacHaus K9. She is completely focused on the work and learns incredibly quickly. We searched for a good mate to breed to our late male Norbo in the hopes of producing a son from the mating which would be of the same quality as was our Norbo, and were extremely pleased to choose Lusy Naspo V Rated, SCH2, KKL1 as the dam for our first litter by our late Norbo von Schraderhaus. . Conceived via surgical insemination with frozen semen from his late father Norbo. Norbo's first son, Norbo Den-Lu and the siblings Bojek and sister Akeelah produced within this litter are wonderful representatives of the breed and possess all the traits that we strive to produce in our offspring. Lusy is currently in training for her working titles, being solely worked by Bob Pac, who is her Handler/Owner/Trainer (HOT). To date Lusy has obtained her Sch 1, Sch2, and her Sch3 in 2009.

Bojek's grandsire is the legendary Norbo Ben Ju...6 time WUSV competitor on the world Team for Czechoslovakia, Norbo Ben Ju has been one of the most influential producing stud dogs worldwide for the original working German Shepherd Dog. He is truly one of the finest producing stud males to ever be imported into the United States and has earned his place in history for improving upon not only the working ability of the original GSD but for imparting strength in structural integrity to his offspring.
Bojek's granddam, Denny Jipo Me is one of the finest daughters of Gero z Blatenskeho Zamku (výborný, ZVV3, IPO3, SchH3, FH, OP1) . Denny is the product of the exceptional breeding between Gero and the foundation female for the Jipo-Me kennel, Zeira Jirkova Dvora (velmi dobry, ZVV1, 0/0). Zeira was noted for passing on to her female offspring excellent temperaments and warmth in character, characteristic retrieve drive, and excellent overall working abilities. Some examples of these fine dogs include greats such as Gero z Blatenskeho Zamku, Omar z Blatenskeho Zamku, Treu v. Schaferstolz, Iwo v.d. Buscheke, Whisky v. Ritterberg, Bojar v. Schotterhof, and the well known Czech working female Klara z Pohranicni Straze who has been noted here because of her long list of super strong working offspring. Other greats include Arko vom Gräfental, (one of the last DDR Bundessiegers before the wall came down in 1989).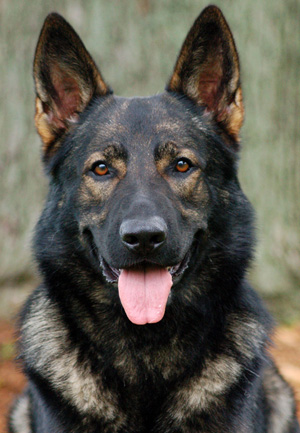 Bojek @ 24 months
Congratulations to Bojek and Kayla Pac,
on their achievement of Bojek's

OB1 title!,
Earned Oct. 2010.

Click on photo for more working pics...


Click to view pages for
Bojek's brothers
Caleb Den-Lu von Schraderhaus
&
Norbo Den-Lu von Schraderhaus
Below is Norbo Den-Lu's brother Bojek
from Norbo's Den-Lu litter


out of Lusy Naspo

Bojek Den-Lu von Schraderhaus
@ 5 months




@ 5 months


Bojek Den-Lu von Schraderhaus
@ 8.5 months

Bojek is in training with Bob Pac/ Pac haus K9, receiving VP3 in May 2009 at the Sieger Show and is currently working toward his CD titles and schutzhund titles.


Bo earned his

CGC, TT Cert. and CD

June 13th, 2009!!




and his

SG Rating

in June 2011




CONGRATULATIONS Bob and Bojek!

!




Bojek at 1 year of age



Bojek's Pedigree


Bo @ Show Rating 23 mos


Bob and Bojek earn Bo's SCH1
Nov 11 2011
Congratulations Bob!
We're so proud of you and your boy Bojek!



Schraderhaus K9

Quality Working German Shepherd Dogs
Roy, WA. (United States)

+1.253.843.1123 PST